This is a very belated post, as my ROM was 10 months back :D
But anyway.. I hope it helps anyone who wants to get married/ROM in time to come.
ROM : 16th July 2013
The day when hubby and I became legally man and wife.
I remembered the start of the wedding we didnt know what to do, where to start.
Discussed with the hub and we decided to ask a wedding planner for help.
(which we did at first but cancelled it as the wedding planner isnt trustworthy)
We also borrowed lots of books from the library.. but I have got to honest with you.
None of the above helped :
WEDDING PLANNER was SUPER IRRESPONSIBLE by keep postponing meetups, so we cancelled.
LIBRARY BOOKS are only useful (somehow) for america/western culture weddings..so yea.
In the end I looked up a lot on singapore bride forums etc to help me get an idea of the entire ROM/Wedding process.
I'm just going to summarize it all here for you.
The first thing we knew that we need was : MONEY
So we saved up monthly (enough to reach our "budget") and needless to say, I'm the "banker".
For those whom are going through ROM + Wedding on the same day, good for you.
Much easier.
Your solemnisation will happen before the wedding dinner (some might choose during the dinner, depends).
For those (like us), whom are going through ROM first (maybe due to housing too like us) and then your wedding, unless you want your ROM the simple style (just go to the Registry Of Marriages and sign the papers with your witnesses present and that's it), if not you might want to save up a sum of money ($2000-$5000 - depending on location/extension of your ROM) to throw a ROM party or somewhat like that to make it more memorable (like what we did).
!!!
Book your ROM early, check your solemniser's availability before booking.
If I'm not wrong, you can book 3 months prior to your preferred date of ROM.
I've gotten the garden solemnisation that I wanted, with loads and loads of DIY decorations of the colours mint and peach and we ordered fourseasons catering (you can find that on google), and we got their ROM package which includes the solemnisation tables/chairs and also the buffet for 30 pax.
We have also rented chairs for our guests to sit while watching the solemnisation process and the after-party was at the chalet itself (yeap we rented two night's stay at NSRCC as we wanted a place of our own where there are rooms available for makeup/change and also space for everyone to chill after the entire thing ended and most of all, the backyard for the ROM process), it wasnt exactly super pretty (cos the ground of the backyard was botak - no grass as it was the sunny and humid season :( ) but other than the lack of grass it was already super perfect for me.
If you are keen you might be able to find pics of the ROM on my fb or in my blog's archives (:
Okay now to the bigger occasion .... THE CHINESE WEDDING.
For most Singaporeans, we follow the chinese wedding "yum seng" banquet culture.
What happens is that the bride and groom will take their wedding photographs, then book a venue to throw their banquet dinner, send out wedding invites, on the morning of the wedding go through the tea ceremony (which is most important to elders) and then the wedding dinner at night as a celebration of the union of the bride and groom.
And yup we went through exactly the above...
So the first thing you have to do is :
FOR LADIES : DISCUSS DETAILS ABOUT THE WEDDING WITH YOUR SISTER/BESTFRIEND (Most likely your maid-of-honour)
!!!
Do not find people whom you cannot rely on or will tend to suddenly say they cannot make it last minute as it will really be a very wet blanket and hurting to the wedding. Find someone close to you, someone whom you can trust and depend on at times of need (of cos you have to do the same for her ;) )
What to discuss?
Colours/themes/ideas/etc.
If needed you might also want to bring your MOH to choose a suitable wedding gown boutique with you.
Trust me, this part helps A LOT in the wedding planning process so you wont feel worn out with your work and the wedding planning at the same time.
Of cos you will have to include your hubby in the wedding planning (although you can really see that men wont really bother about the themes/colours/ideas and they will just say, "Anything you like, okay?" zzzz)
--
Second thing :
Find a suitable wedding gown boutique.
This is super important.
Walk around, compare the packages, DO NOT SETTLE FOR ONE TOO QUICKLY - FIND ONE THAT IS WILLING AND GENEROUS ENOUGH TO INCLUDE EVERYTHING IN THE PACKAGE.
ALSO
MOST IMPORTANTLY FIND ONE THAT HAS THE GOWN THAT FITS YOU BEST AND YOU REALLY LIKE.
An idea for you :
My wedding gown boutique was : MY DREAM WEDDING SG
(The one angelababy endorsed - I dont really care if she did endorse or not as I'm not a fan, but its just to give you girls an idea)
So yup what happened was hub and I was at tanjong pagar finding the right wedding gown boutique.
We walked into a few and wasnt happy with the package/prices.
Then we went into MDW.
The guy who spoke to us showed us their package.
!!!
The "FINAL PACKAGE" will differ from case to case basis (depends on the way you bargain).
So please do not be afraid to ASK FOR MORE.
I.e. If you think you need extra tux for the bestman or blazers for both Dads, etc, DO NOT BE AFRAID TO ASK.
(I regretted not asking for both our Mums' AD dresses zzzz)
After talking about the package I went ahead to try the gowns.
I tried one that I really like on and when I came out Hub was like showing the stunned "WOW" face, and he smiled and said it looks great on me.
I still remember his facial expression :P hehe
And one more thing I've got to add about MDW that really attracts me too, which was their wedding photo album examples.
They managed to shoot SG locations (like Changi Village, Sentosa, Botanic Gardens) into places that look like places overseas honestly.
I must say I'm also quite lucky to get the right crew for the shoot la.
My photographer was Winson and along with his assistant Casey.
My MU artist was Zoey (She's from TW and have to reccommend her!
She made me a pretty bride with her awesome makeup skills and exactly the look I wanted :D I have gotten her to do my MU for the photoshoot and my AD itself! )
View the wedding photoshoot album here!
--
Thirdly :
CHOOSE A WEDDING BANQUET VENUE
So many of Singaporean nowadays look at having their wedding banquets at hotels.
For us, as we have a limited budget (remember our resale flat is coming together at the same time with the wedding so we can move in immediate to our new place after our wedding dinner), thus we chose to have it at Seletar Country Club.
Yup, not all atas and super fabulous and high ceiling ballroom and whatever but I'm glad that it fits into every condition we are looking for in a venue.
Each table was around $800++, food was not too bad, service was quite good and we had a great time there including the rehearsal process.
I'm happy to have the Seletar coordinator to help me coordinate w C to make the wedding perfect.
We had a great banquet over there and would reccomend it to anyone.
Please do not think that country clubs are no better than hotels, etc etc because its not true.
If you do, you are judging a book by its cover and yup, shallow.
I ever have attended a wedding dinner which was held at a VERY WELL KNOWN HOTEL IN SINGAPORE but the coordination and food/service was really terrible and it was so bad they asked the hotel part of the sum for refund.
--
Four :
Buy your wedding bands!
We got ours from CITIGEMS.
Both simple and we love it.
Again, not the atas kind of brand and I admit we didnt spend much on it, but worth it cos it matches my engagement ring so well! (:
--
Five :
TALK TO YOUR ELDERS AND ARRANGE A DINNER WITH BOTH PARENTS FROM RESPECTIVE SIDES
This is super important as it's a time the elders will talk about the pin jin (downry) for the Guo Da Li.
!!!
Urge your own parents to voice out their unhappiness/concerns during this meetup as anything that happens after that, you are the person stuck in the middle.
Scenario E.g.
Both sides meet, and agreed with things like ang bao and say "意思意思就好," (it's the thought that counts), but when the angbao is delivered and the amount doesnt match up to either party's satisfaction.
What happens? They show YOU or YOUR OTHER HALF black face, make a fuss, and boom, immediately it's your fault.
So to prevent this, ask ALL OF THEM to voice EVERYTHING OUT and MAKE A LIST DOWN to avoid any confusions/conflicts.
--
Six :
GET A HUGEASS CALENDAR TO NOTE DOWN ALL IMPORTANT DATES
(E.g. Gown fitting/photoshoot dates/collection dates/ etc)
Trust me, a wedding is SUPER TEDIOUS especially when you are the bride and there's also work to cope with.
!!!
You do not want to forget any important details/dates!
Plus most of us girls want our wedding to be perfect so we try to do most things ourselves - it's normal.
TBH to me hiring a wedding planner is an extra cost ($2k-$4k) so I rather handle it myself.
--
Seven :
Decide on your bridemaids PROPERLY
Tbh I regretted some but oh well, guess it's true they say only those whom treasure you will be there for you.
No fuss, no nonsense, no girl drama.
I am thankful for my bridesmaids and the right decisions I've made 6 months prior to the wedding (yes I only came to decide finally who are the ones 6 months into the wedding)
Your MOH and bridesmaid should meetup before the wedding to discuss about the wedding/gate-crashing ideas.
It's good for them to know one another before the AD too!
I had fun watching my girls (I have known them all from different parts/times of my life) get together and having fun "bullying" the guys was the best thing everrr! :D
Oh yes, do find pretty bridesmaids dresses that you think might suit them all and get one each for them to suit your theme :D
They are helping you for your wedding, surely it is a just gesture of your sincerity to get and pay for their dresses right? (:
--
Eight :
Find a good event photographer + videographer for your big day
Mine was from
Love Meet Lens
and my photographer Adrian is a very nice guy whom knows a lot about weddings (through his great deal of experiences) - he shot my ROM event photos and also my AD event photos, and along with his videographer Andy, they really made it all fuss-free and the photos/video turned out super fabulous and everyone sang praises for them!
SUPER RECOMMEND!
--
NINE :
TRANSPORT AND WEDDING CAR
This you might want to discuss with your hubby on that (They would be more than happy to take over on that)
The main wedding car (which you might be spending a lot on) can be saved a little on IF you were to borrow the car from someone you know.
I prefer white wedding cars and glad that mine was, thanks to Mr CH for lending us his chio "wife"!
--
TEN :
DO RESEARCH INTENSIVELY ON THE CHINESE TRADITION WEDDING / SEEK HELP FROM YOUR ELDERS ON THESE TRADITIONAL BELIEFS
On things like :
PIN JIN
GUO DA LI
AN CHUANG
AUSPICIOUS CHINESE WEDDING
SPECIFIC
DATE/TIMINGS
You can find all these via google and also via brides' forums.
!!!
Within 100 days BEFORE OR AFTER YOUR CHINESE WEDDING DAY, you are NOT ALLOWED to attend any WEDDINGS/FUNERALS. This is part of the chinese traditional beliefs that is not good for your marriage.
--
ELEVEN :
Sit down with your wedding coordinator (most likely one of your bridesmaid), your hubby and perhaps the venue coordinator to talk about the timeline of your wedding day.
State the time/venue/tasks for each timing/people involved and give a copy to everyone involved so it would be clear cut and everyone will not be confused on the AD.
--
TWELVE :
ENJOY THE PROCESS!
I complained SOOOOOO MUCH, and admit I even cried out of being too stressed about everything, but it's really part of the process.
It is tiring, you will be so darn busy but that's really the fun of it.
You see yourself growing and you see who truly cares, who's there for you and who's really into helping you for making your big day beautiful and memorable for you.
!!!
Do not allow anyone to spoil the mood you have while preparing for the wedding.
Eliminate anyone out of the wedding plans should him/her tries to boss you around and make things difficult for you when it's YOUR BIG DAY.
PICTURES THAT PAINTED A ZILLION WORDS :D
Face-timing during the time when the guys are gate-crashing :D
Gate crashing!
With my lovely family :')
My PPGs♥
Claire and AJ :D
RP mates + Soggy the black
CTW Colleagues
Happy that even my adult piano student came :P
Many and special thanks to the very nice Manager on our big day :D
Not forgetting ZR and AJ, our emcees of the day!
Pretty girl-friends :)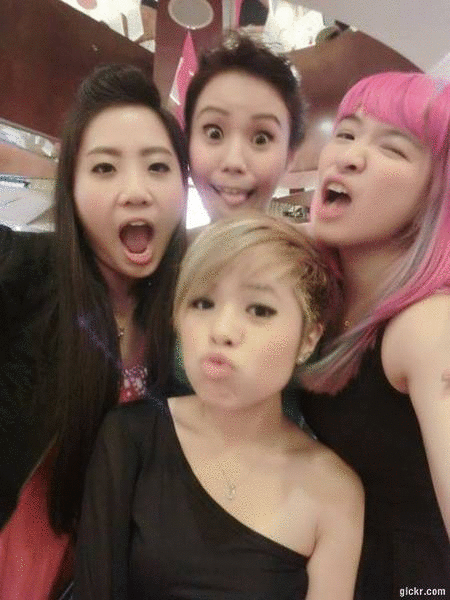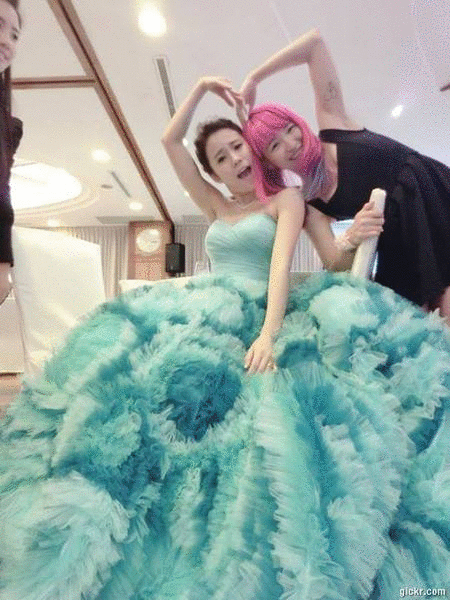 I'M NOT DRUNK JUST REALLY HAPPY
POLAROID SHOTS POST WEDDING! - gone wild
Many special thanks to :
1) OUR PARENTS! ♥♥
For being so supportive of the marriage and helping us tide through everything and making this wedding planning so easygoing for us and successful!
Esp my parents :D I love my Mum and Dad♥♥♥♥
2) CAROLTOHHH my awesome and sweetest and bestest and noisiest MOH♥
#becausewecan
This friendship I know is going to last for life because we made a comeback and IT'S GON BE SO FREAKING AWESOME I LOVE YOU HAHAHA #toomanyhappenedtous #noneedtosayout #webothknow #zaijiangggg
3) NY ♥
Thanks to this #sexualbeast for coming all the way from US for my big day and to be part of the bridesmaids crew.
Everyone loves you but you know I love you most hehe.
Thank you for being my best westlife friend since we were 10 and never forgetting me even when you moved out of SG.
I'm glad we did a rendition of MY LOVE so loudly in the car before you went back.
I shall keep the video and play it during your wedding ;)
4) JOV ♥
Thanks for this lovely friendship we share all these years and always making a point to meet me to maintain this friendship we have.
Even if during the last date the banana pancakes suck hehehe but it was not so bad because your presence made up for it (I know I damn sweet) - so where's the next cafe we are going uh? #DONTWANTISUGGESTPLEASE
5) CAI AI JIA LITTLE PEACH♥
You are tiny but crazy.
Your hairstyle changed but not you even after all these years.
We have shared the same stage, the same passion, building up upon this friendship we shared.
Thank you for being one of the sisters and the emcee *kiss*
Please continue to grow taller and I'm still waiting for your text for our date this friday ♥
6) Jasminetohhh - Toh Xiao Mei!
Thank you for helping out on that day and being bossed about so much by your sister hehehe.
As long as I live, the friendship between your sister and I will continue till the day I die and you are still Toh Xiao Mei in my heart foreverzxzxzxzxz too
7) Soggy - You so black thats why I have to thank you.♥
Kidding.
Thanks for always listening to my grandmother stories and being there for me.
Those talks at night at Mcdonalds HG was worth it.
I'm still the same me just busier.
8) The brothers of Guan Hao + ZR
Impressed with you guys because I never thought you all would be serious.
Those help you all rendered on that day was SUPER EFFICIENT hehehe
Thank you all for being there for GH and being supportive of us :D
9) CHOO GUAN HAO HUBBY♥♥♥♥♥♥♥♥♥♥♥♥♥♥
Thank you for being my husband and choosing to spend your life with me when you proposed 2 years back.
Never regretted (even though I said I did when we quarrelled last time :P ) and never ever will #unlessyoucheatonme #kickyourassifyoudo
I LOVE YOU BAOBAO!
......and I'm glad to say......
MY WEDDING WAS SUCCESSFUL AND IT'S OVER AND NOW..........
It's marriage :((
HEE I'M KIDDING
After my wedding, we went to BALI for our honeymoon.
Not paris or etc but BALI as we wanted a chillax place, hubby was like - NO SHOPPING.... then well okay Bali it is.
On the plane (:
Our Villa :D
Headed out to the beach :D
One of my favourite times at Bali - @ Jimbaran Bay watching the sunset while having candle-light seafood dinner ♥
After dinner, we went to chill out at the local pub + sheesha
-
Visiting Ubud in Bali :) - Sacred Monkey Forest, Silver Jewelry Factory, Oil Painting Academy, Local temples/markets, Lunch by the rice padi fields
Hub bought this necklace charm for me :')
Oil painting academy - no phototaking of the painting galleries but all of them are so so nice!
Put on a sarong for the temple visits, abiding to rules of the locals, a form of respect to the gods.
Sacred Monkey Forest - the monkeys are all super smart-asses!
Local markets
Rice Padi Fields - regretted not taking much pictures here due to rainy weather
Night - Kuta beach district
Ta-da~
Sorry to shock you all with my mostly bared-face in all the photos. :(
Bali's weather is waaaaaay too hot and wearing makeup makes me feel uncomfy :(
That's all for our trip!
CANT WAIT FOR MY BABYMOON 5 YEARS LATER WHICH HE PROMISED ME. :D
Do ask me anything on
my ask.fm
if you have any questions for me :D
Bye :D